BACKGROUND INFORMATION ON THE EDELSTAM PRIZE LAUREATE 2018:
LI WENZU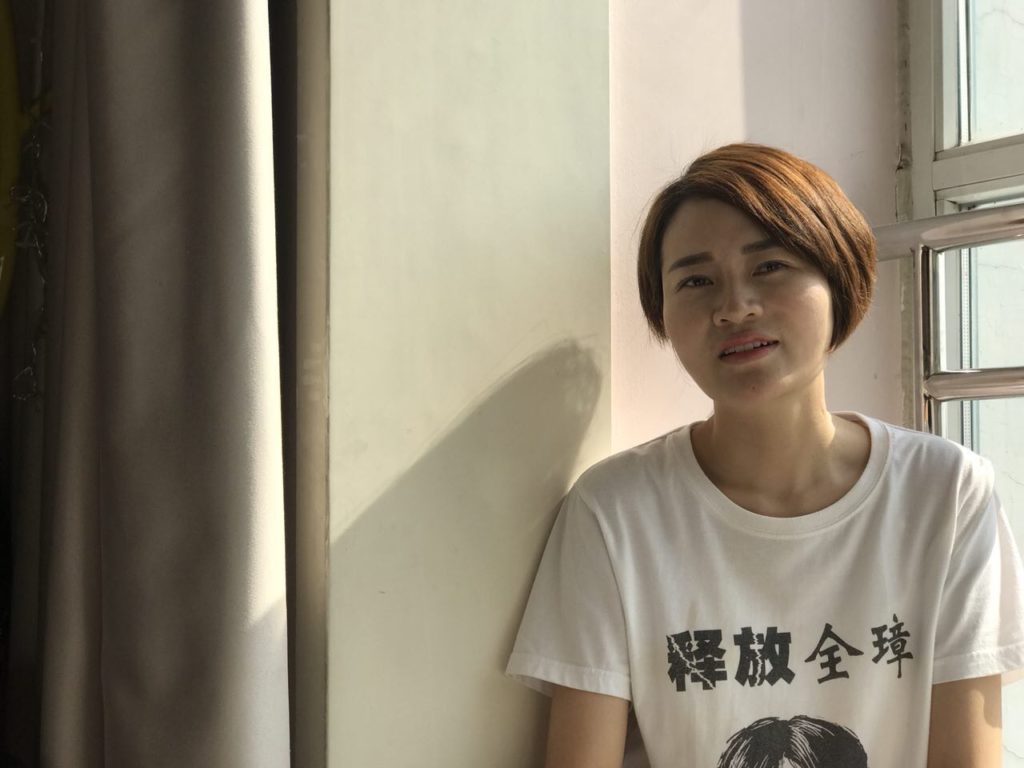 Li Wenzu was born on April 5, 1985, in Badong, Hubei Province, where she completed her secondary school education. At the age of 24, she moved to Beijing to look for work. There she met her husband, and they got married after a year. Her husband, Wang Quanzhang, is a Chinese human rights lawyer, who has defended activists and victims of land seizures, as well as persecuted and who once defended practitioners of the Falun Gong spiritual movement. Wenzu was content with her life as a housewife until the fateful day when Wang Quanzhang disappeared.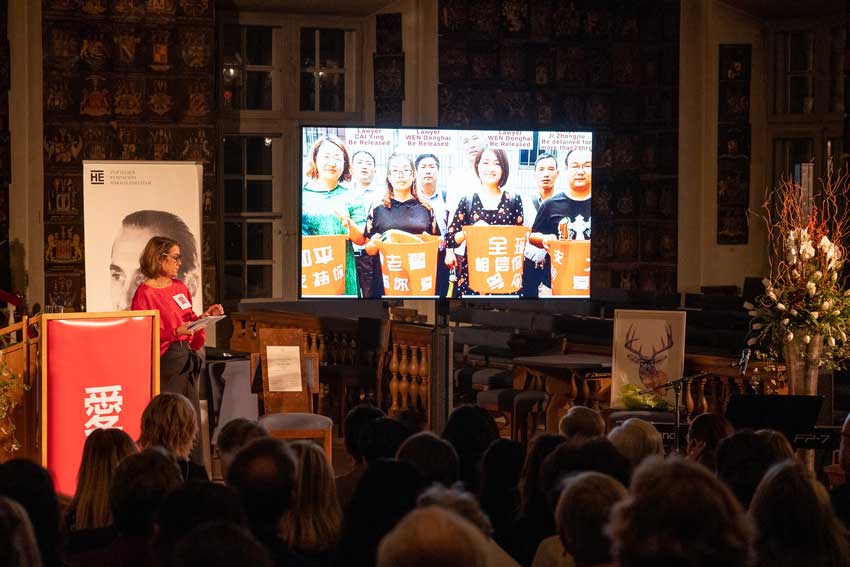 For several days beginning on July 9, 2015, more than 200 Chinese human rights lawyers and activists were detained or questioned in the largest clampdown on the legal profession in recent history known as the "709 Crackdown." The China Human Rights Lawyers Concern Group estimates that 319 lawyers, activists, and people associated with them were interrogated, taken into custody or "disappeared" in the crackdown. During the initial period of their detention, many of the arrested lawyers and activists were held without contact with the outside world and their families received no information regarding their well-being or whereabouts. The majority of them were subsequently released on bail, while a few have been convicted of various crimes and sentenced to up to seven years in prison.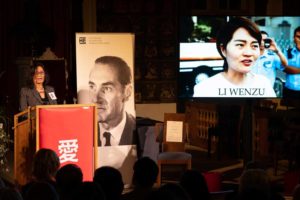 However, Wang Quanzhang situation is different since no trial dates have been announced. He is therefore the last prisoner in the "709 Crackdown" who is in legal limbo. The Chinese regime has charged him with "subversion of state power," a catch-all "crime," it has long used to persecute individuals and organizations it deems as a threat to the one-party state it maintains with an iron hand. In fact, the sole objective of Wang Quanzhang and his fellow lawyers has been to defend the disenfranchised and advance the rule of law in China. According to Chinese Human Rights Concern Group, Quanzhang was tortured with electric shocks in detention.
Li Wenzu and Wang Qiaoling (the wife of the human rights lawyer Li Heping) were the first members of what has later become known as the "709 Family," due to their activities.  As front-line human rights defenders, they have actively looked for families of those caught up in the "709 Crackdown," trying to understand their needs and supporting them in every possible manner. To carry out this work, Li Wenzu and Wang Qiaoling have travelled the length and breadth of their country. On several occasions, they have been arrested at times for visiting "sensitive" family members of other human rights lawyers, and they have managed to mobilize them into action. "This has been a big change. Facing these circumstances alone, we were very afraid. But together we can encourage each other. This has been of great benefit to us," says Li Wenzu.
Mrs. Li Wenzu has played an outstanding and crucial role in the "709 Family," in providing creative campaign-ideas and contributing to shaping the group's characteristic activism. She is the one who holds the group together with her laughter and positive energy.
The "709 Family," has made use of available legal channels in an effort to find justice and has thereafter lobbied international leaders and diplomats, and spoken up courageously, not only regarding their personal plight, but also on the dire state of human rights in China in general. By doing so, Mrs. Li Wenzu and other members, even their children and parents, have come under intense pressure from the authorities.
For three years now, to learn about her husband's situation, Li Wenzu has submitted more than dozens of freedom of information requests to the police, which has returned them unanswered. She has also visited the complaints office of the Supreme People's Court in Beijing every week – to no avail. Instead, the authorities have responded by placing her under constant police surveillance. Further, Wenzu has filed endless lawsuits against the Public Security Bureau.
Li Wenzu together with other members of the "709 Family", has organized several important campaigns such as the "Red Bucket Protest," which took place on July 7, 2017 in front of the Supreme People's Procuratorate in Beijing. During the "Red Bucket Protest," the wives of the detained human rights lawyers gathered in front of the Procuratorate in bright and red clothes with red accessories and red buckets, a color of love and happiness, to publicize their demand for information and access to the prisoners. On their dresses they had printed their husband's names and messages of love. All the participants in the protest were finally detained, some of them badly beaten. Diplomats were not allowed into the Procuratorate.
Red Bucket Protest
Their tongue-in-cheek slogan became "Leave the dressing table and take on the thugs."
On April 2, 2108, to mark the 1, 000th day of her husband's disappearance, Li Wenzu arranged a long march from Beijing to Tianjin to look for her husband wearing a jacket with the text "seized for 1,000 days." Many other wives and activists joined her on her walk. On the fifth day of the march, Mrs. Li Wenzu was intercepted by police and taken into custody by plainclothes police in Tianjin, and then released. However, that night, security personnel forcibly took her back to Beijing and put her under virtual house arrest.
Mrs. Li Wenzu has paid a high price for her humanitarian activism. She has been arrested and detained in both the red bucket action and in the long march for freedom. The family's son was not allowed to enroll in school. Friends attempting to visit her in house arrest have been beaten up. She has been constantly harassed and followed by the authorities and has repeatedly been forced to leave rented apartments where she has sought refuge. But, she has refused to give up. Thanks to her and other family members' tireless effort, many of the hundreds of lawyers and activists have now been released; some of them have been sentenced to prison terms. But Li Wenzu's husband is the only one of whom no news has been heard. No hearing is arranged or announced.
The solidarity and the organization of the family members have been crucial in raising international awareness of the "709 Crackdown", which in turn has restrained the hands of the authorities in perpetrating the worst abuses.
Some of the wives of the detained lawyers have been forced to leave there apartments after their landlords were warned by the public security bureau, which has also summoned associated relatives and friends to demand their silence and compliance. The lawyers and activists who have been formally released continue to be closely monitored and isolated from friends and colleagues.
According to an article on Li Wenzu's march published in The Hong Kong Free Press on April 5, 2018, "the country's courts are tightly controlled by the party, with forced confessions often used as evidence and guilty verdicts delivered in more than 99,9 percent of criminal cases."
In its report from July 2017,  "China: On "709" Anniversary, Legal Crackdown Continues" Human Rights Watch states that it has long documented the Chinese government's use of torture, which violates its obligations under the Convention against Torture and other international treaties. Beatings, prolonged sleep deprivation, indefinite isolation, and threats to one's family are common techniques used by the Chinese authorities that can cause long-term physical and psychological harm.
Chinese authorities also continue to harass and intimidate lawyers who represent the 709 lawyers and activists, frequently ordering them not to speak to the media and threatening to revoke their lawyers' licenses. Judicial authorities have disqualified at least four lawyers – Xie Yang's lawyer Lin Qilei, Jiang Tianyong's lawyer Tan Chenshou, Wang Quanzhang's lawyer Yu Wensheng, and Xie Yani's lawyer Liang Xiaojun – to pass China's annual lawyers' evaluation, effectively disbarring them…
Since January 2017, as the released lawyers and activists have spoken of their treatment in custody, details of the torture they were subjected to have become known. Some of the detainees have stated that the police forced them to take an unknown "medication" that made their muscles hurt and blurred their vision. Some have reported how they were put in handcuffs and shackles, linked by an iron chain, that made it impossible for them stand up or lie straight, even while sleeping. They were also kept in solitary confinement, prohibited from leaving their cells for months on end.
In interviews transcribed by his lawyers, one human rights lawyer says that he was interrogated day and night by security agents who punched and kicked him, blew smoke in his face, and forced him to sit in a fixed position for more than 20 hours at a time. After his release in January 2017, after 18 months of secret detention and torture, he has shown signs of severe mental trauma.
Quanzhang's lawyer Yu Wensheng has since then been arrested and charged with inciting subversion of state power.
According to a report by Reuters, the European Union urged China to free activists during the 36th round of the EU-China Human Rights Dialogue, held in Beijing on July 9-10 2018.
In an open letter dated February 8, 2018, to His Excellency Mr. Xi Jinping, President of the People's Republic of China, the International Bar Association's Human Rights Institute (IBAHRI) has called for the cessation of the persecution of human rights lawyers in China and for adherence to the international legal instruments that safeguard the independence of legal professionals.
Written by IBAHRI's Co-Chairs, former United Nations Legal Counsel and Under-Secretary-General for Legal Affairs Ambassador (ret.) Hans Corell and the Hon Michael Kirby AC CMG, former Australian Justice, the letter expresses 'serious concern over the unwarranted interference with the professional duties of lawyers.' Disturbed by the number of human rights lawyers and activists who have been disbarred, detained, interrogated or charged since July 2015, the Co-Chairs conclude by describing the current state of affairs as 'an unacceptable intrusion on the independence of the legal profession, which undermines the rule of law and threatens democratic principles.'
Motivation
The Edelstam Prize Jury's motivation for awarding the Edelstam Prize to Mrs. Li Wenzu the Edelstam Prize is:
Mrs. Li Wenzu is a Chinese citizen. Until the day of her husband's arrest in July 2015, she led the ordinary life of a Chinese middleclass housewife, caring for the couple's only child. Li Wenzu could have accepted the situation, and simply waited for her husband to be released, or could have a sought an individual resolution for her personal situation and of her husband's case. Instead, in spite of the dangerous and hostile political environment, with outstanding courage, braving the risks and overcoming her suffering, Li Wenzu chose to become an activist herself, and organized with other fearless housewives the "709 Family" group, looking for and organizing the families of the 300 plus human rights lawyers arrested during the "709 Crackdown", supporting them, and mobilizing them into action. This solidarity and mobilization of the families has proven crucial. They have filed lawsuits against the Public Security Bureau, and tirelessly and creatively lobbied and campaigned for the release of the detained lawyers and other activists. Li Wenzu organized the non-violent "Red Bucket Protest" and "Long March for Freedom" to raise the general awareness of the persecution of lawyers and other human rights activists who are opposed to China's authoritarian regime. As a result of their actions of Li Wenzu and her fellow family members, most of the arrested lawyers have now been released, while 14 of them have been brought to trial and sentenced to prison terms. Mr. Wang Quanzhang, Li Wenzu's husband, is the only detainee still disappeared since his arrest and disappearance three years ago.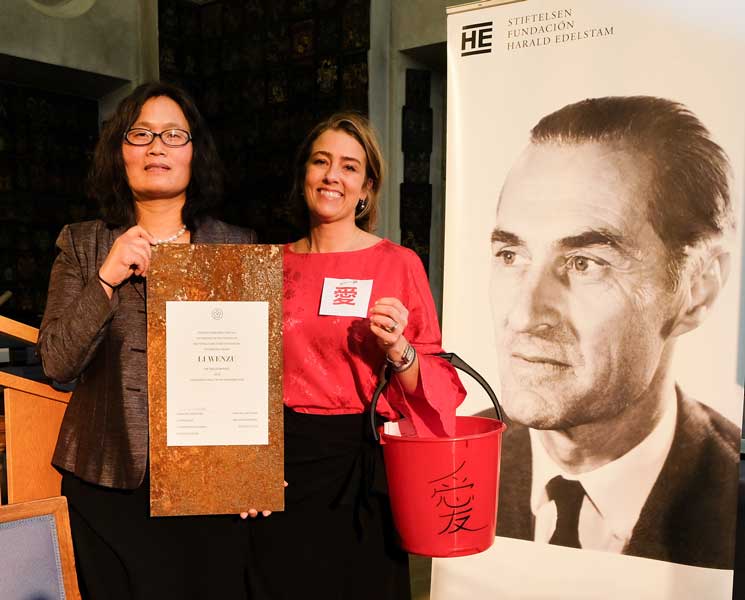 Li Wenzu has gone on fighting despite being subjected to constant harassment threats and repeated arrests by the authorities, and her child had been expelled from school. She has continued advocating, beyond her personal interest, for the principles of rule of law and democracy in China, and campaigned not only for her husband's release, but also for the freedom of all the victims of violations of human rights in China. She has not given up and is currently under siege in her own house for these reasons.
The Edelstam Foundation respectfully asks the authorities of the People's Republic of China to put an end to the harassment, threats and retaliatory actions against Mrs. Li Wenzu and her child because of her courageous and noble fight. We also ask the Chinese Government to end the sustained suffering of Mrs. Li Wenzu and her child by granting the life and integrity of Mr. Wang Quanzhang, revealing his whereabouts, (respecting his right to be visited and assisted by a lawyer), and freeing him together with other still imprisoned lawyers and activists of the "709 Crackdown."